Gazebos offer a great way to enjoy the outdoors, making them one of the most popular features in any backyard. Whether you're looking for protection from the sun, shelter from a sudden rainstorm, or just a quiet place to relax and read, gazebos make for an ideal addition to your outdoor space. But wait – before you rush out and buy one, there are some things that you should know about these practical structures.
In this post, we'll explore everything you need to know about gazebos – including what they are, common materials used in their construction, how much they cost on average, and more. Read on to learn all about these useful additions!
What Are Gazebos?
Gazebos are typically defined as open-sided structures that provide shelter from the elements and offer some protection from insects. As simple as they may seem, gazebos come in all shapes and sizes, with rooftop treatments ranging from flat to pitched and even domed. Many are open on every side, while others feature walls on all or only some sides. Those that have walls typically use screens instead of solid material since this allows you to enjoy a view of your backyard while still providing adequate privacy and protection.
Like so many components of outdoor living spaces, gazebo designs can be highly customized based on your specific needs and aesthetic preferences. You can opt for any of a number of roof treatments, choose between different materials (such as wood, vinyl, or aluminum) and even decide on the style that you like best.
Materials Commonly Used in Gazebo Construction
As mentioned above, there are many different types of gazebos to choose from, including those constructed primarily from wood, vinyl, or aluminum. The most common indoor material for gazebos is wood; this works well if your backyard is naturally wooded and blends in nicely with the natural surroundings. But keep in mind that since it's a natural material, it requires maintenance – such as staining or painting – so be sure to factor this into your budget before choosing a wooden gazebo design. If you want to avoid maintenance, choose a vinyl or aluminum gazebo instead.
Vinyl is the most commonly used material for outdoor structures such as gazebos due to its durability and low maintenance requirements. It's made from PVC, which doesn't require painting or staining and won't rot like wood, rust like metal, or fade in the sun. It can also withstand high winds and is less expensive than wood or metal alternatives.
For those that prefer natural materials but don't want to deal with the upkeep required of wooden gazebos, consider an aluminum-based design instead. An aluminum roof will keep out rain while allowing maximum sunlight in; it comes in an array of colours that can be painted to match the rest of your outdoor living space.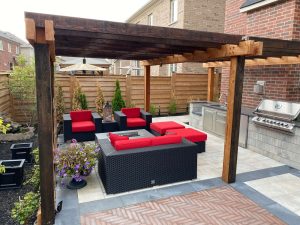 Common Styles and Designs
The most common gazebo styles are traditional and octagonal – with both adding interest and visual appeal to any backyard. The former is, as mentioned above, open on all sides; it provides increased airflow in warmer weather while still offering some protection from sun and rain. An octagon-shaped gazebo offers more privacy than a traditional design since walls cover up three sides instead of just one. Additionally, its shape creates an interesting focal point for your backyard, making it a great option for those who want their gazebo design to stand out from the crowd. If you choose this style, consider using screens or glass to cover the additional two sides for increased privacy and protection from the elements.
Other popular gazebo styles include those with domed roofs, which are perfect for providing a shady spot in your backyard during hot summer days; curved-roof designs, which slope for enhanced water runoff; pavilion roof treatments, which resemble a tent and can be used as an outdoor entertainment space; and more. In addition to these standard options, you can also find highly customized designs if you want something really special – like a shape that matches the overall style of your home or even one that incorporates aspects of an existing structure on your property (such as a small guest house).
Average Cost of Gazebos
The cost of a gazebo is highly dependent on the size and the complexity of the design. A highly customized, octagonal-shaped gazebo with curved benches for seating will cost more than a basic, square model that's constructed from pre-cut wood. Likewise, an aluminum roof will cost more than one made from vinyl or wood material.
No matter how much you're willing to spend, it will always be worth it when you think of all the money saved by not having to buy drinks, rent movies, and order pizza like those poor folks who don't own a gazebo. So what are you waiting for? Go ahead and add one today!
Different Types of Gazebos
Vinyl 
Vinyl gazebos are the latest in backyard design trends and vinyl doesn't rot like wood, rust like metal, or fade in the sun. It can also withstand high winds and is less susceptible to mould and mildew, making it a great choice if you live in an area prone to these types of weather-related problems. Vinyl-sided gazebos can be found in nearly any colour or style you want; however, the colour options for aluminum tend to be somewhat more limited than those for vinyl. You'll also need a professional contractor who specializes in this type of material since working with metal requires specialized tools and skills that aren't necessary when building a gazebo out of other materials.
Metal
Many metal-sided gazebos include mesh screens, which are designed to keep flying insects at bay while still allowing the fresh air to flow freely through the structure; these are a great choice if you live in an area with lots of mosquitoes during the summer or have a pool or spa that requires additional protection from pests. You can also opt for screening made out of material other than metal, such as vinyl.
There are a few cons to building a gazebo out of metal, there's the possibility of rusting with exposure to water, especially if your gazebo isn't covered by some type of material like plastic sheeting. This can be avoided by choosing a design that covers part or most of the interior walls with deck flooring; fortunately, this is fairly easy to do with many pre-fabricated kits. You should also remember that metal panels for any type of structure are not always as easily painted as other materials, so if you want to change the color of your gazebo, be prepared for some added difficulty and expense.
Possibly the biggest downside of choosing a metal gazebo is that it can dent easily, especially in areas where there's a lot of foot traffic; for this reason, consider adding a rug or two to help protect the flooring (or decking) from damage. All types of metal are also prone to buckling in extreme temperatures and should be kept shaded from direct sunlight whenever possible; otherwise you could end up with warped panels or other issues related to heat exposure. In addition, while they won't rot like wood or rust like steel – both great qualities when it comes to a sturdy, long-lasting structure – they can still fade in the sun if not well protected. Using chemical sealants and paints can help minimize this unless you plan on having your gazebo hidden by trees or shrubs; even then it's important to keep the panels clean so dirt and debris doesn't cause permanent staining.
Wood 
There are many benefits to choosing a wooden gazebo for your outdoor area. Wooden gazebos are sturdy and durable, which makes them perfect for all seasons. They can be built to any size and shape, making them a versatile choice for any yard or garden space. And with the wide range of wood options available today, you can easily find one that matches your style preferences and budget. Whether you are considering building a new gazebo or replacing an existing structure, these are just some of the reasons why a wooden gazebo is a great choice.
There are many benefits to choosing a wooden gazebo over other materials such as metal or vinyl. Wood is naturally strong and weather-resistant, making it a great choice for outdoor structures. In addition, wood can be painted or stained in any colour of your choosing, so you can easily find a style that fits with your existing decor. And because wooden gazebos are available in different sizes and shapes, they can be customized to fit almost any yard or garden space.
So if you are looking for an attractive and durable option for your outdoor area, consider purchasing a wooden gazebo today! With the wide range of colours and styles available, there is sure to be one that matches your needs perfectly.
Interested in a custom-designed gazebo for your Toronto home? Contact us today.